No idea what to blog so simply blog about female thingy. Hmmm...it's common for girls to experience period pain once a month but we should actually consume tonic for our bodies after menstruation period. Many people recommend the pills to me and finally I tried it. I don't expect it to be a bottle with little tiny pills. You could swallow it with warm water, dissolve it in warm water and drink or cook it as soup then drink it. I chose the first method and took time to finish the whole bottle. LAME!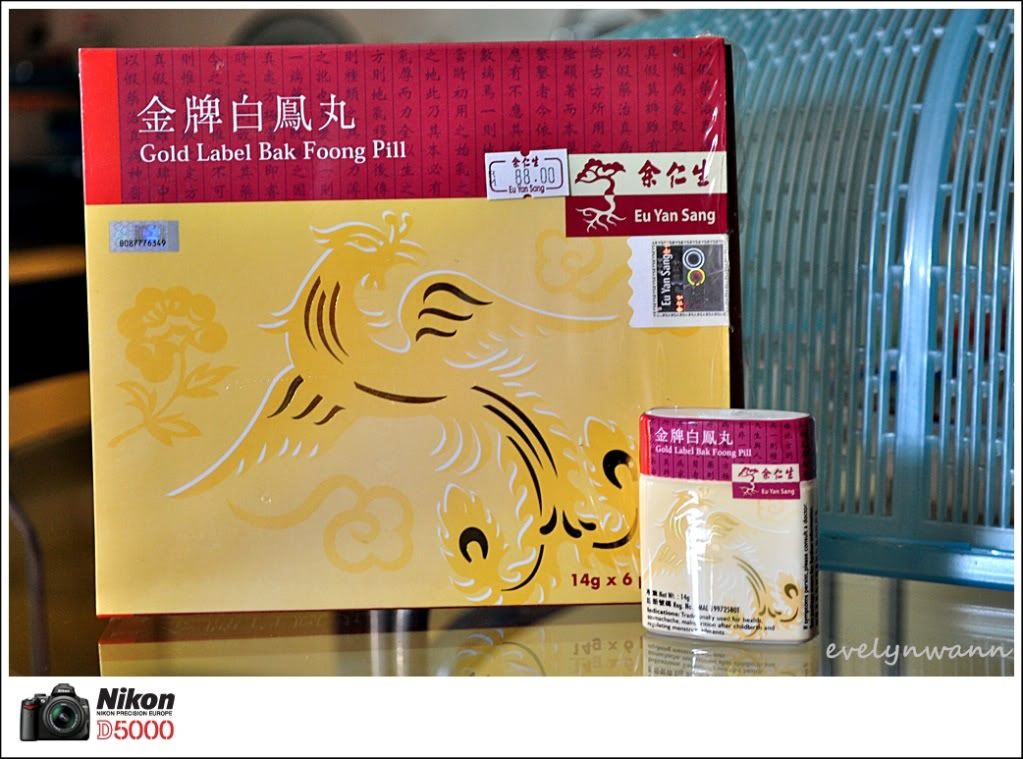 Golden Label Bak Foong Pill from Eu Yan Sang. Traditionally used for health, stomachache, malnutrition after childbirth and regulating menstrual ailments.
I got mine from Eu Yan Sang so it is slightly more expensive than the normal ones. RM88 per box with 6 bottles. Consume before and after menstruation period and NOT during. How effective it is? No idea. But I am quite concern about the recommended dosage for promoting youth and health. Would I look younger after the consumption? wow
There's a little funny story behind the purchase of this bak foong pill. My sis and I went to buy this and the promoter is a guy. There's a sanitary pad sample as free gift for the purchase. After sometimes that guy came forward and told us the pad has wings, asked do we know how to use it? *roll my eyes and show only the white part* OMG...Are you going to demonstrate for me if I tell you I don't know? hahaha We laughed and aswered, oh thanks we know. Cute lah him...

People like to say, there must be somebody missing you if you sneeze. I sneezed almost everyday for this week so I don't think someone is missing me unless he/she misses me everyday. Oh I don't wanna be friend with pills.
Wisdom is only found in truth