Jalan Tan Hiok Nee in Johor Bahru had flea market on the last day of 2010 where hawkers and blogshop owners will open a stall for business there. It wasn't that crowded because everyone was attracted by the attire of the young female performers and stayed in front of the stage. We had our dinner at That's cafe which is along that street too. That's cafe is famous for the vintage decoration in the cafe but sadly no photos to show, maybe next time. I like the ambiance of the cafe, quite relaxing. However, please do not visit the cafe if you are in real hunger and desperate for food, you might just collapsed before your food is served. We saw 1 big fat furry white rabbit with big eyes on that night. It is seriously so fat but so cute too =D
Fish and chips and of course the chilly sauce written words are by us not the chef =D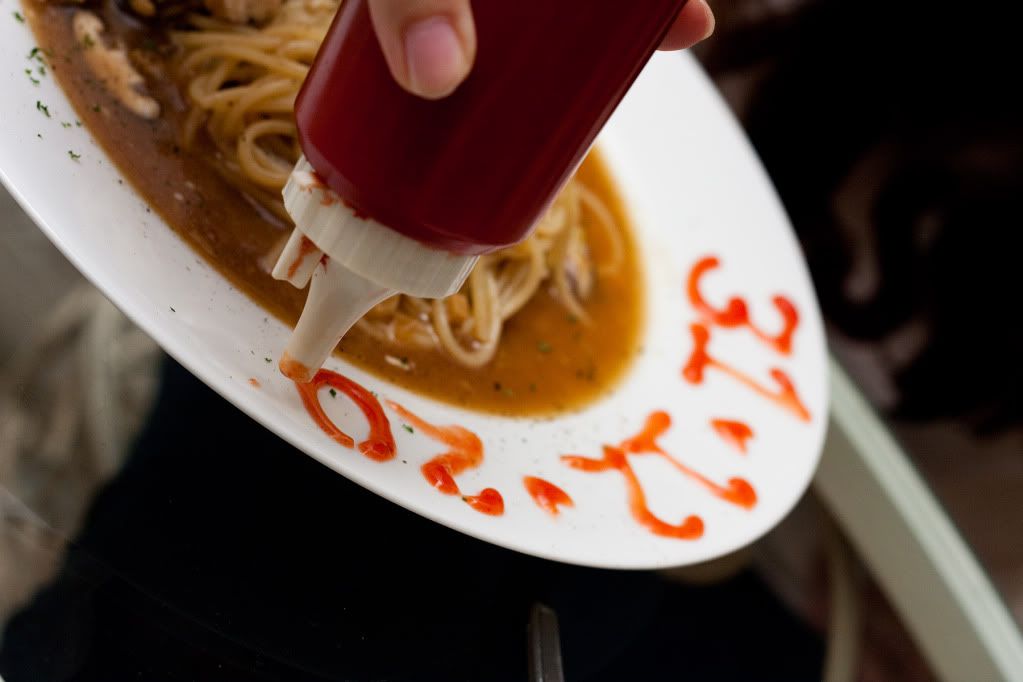 It's my black pepper chicken mushroom spaghetti. A very wrong choice of the night was ice blended cappuccino as beverage. It doesn't match with this spaghetti and made me uneasy for whole night. So, my last dinner of 2010 was a bit imperfect.
The girls. Can you see my camera is smiling to you? FLASH!!
That's Cafe's address : 55, Jalan Tan Hiok Nee, 80000 Johor Bahru, Johor, Malaysia
It's next to Jalan Dhoby and near to Jalan Wong Ah Fook.
Pictures credit to
uncledummy
. Kudos!!
Wisdom is only found in truth